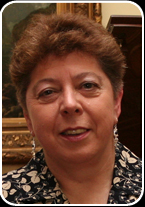 BERYL FOSTER was born in London and educated at Hatfield School, Hertfordshire. She learnt to read music at infant school, playing the recorder. Piano lessons followed at the age of 11 and later, because of a "gap" in the school orchestra, she took up the cello, also playing in the Mid-Herts Youth Orchestra and the Hatfield Orchestra, first conducted by Vernon Handley. Having sung since a small child, Beryl took her first lessons when she needed a Grade 6 for A-level, and it soon became her principal study.
She became a student in the Music Department of the N.E.Essex Technical College in Colchester (now Colchester Institute), studying singing principally with Ranken Bushby, later with Norman Tattersall and Eileen Poulter. She graduated as a Bachelor of Music as an external student of London University and then became a postgraduate student at the Royal College of Music, taking Singing (again with Ranken Bushby) and Opera Studies. Beryl gave her début recital in Hexham, Northumberland, in 1973 and has since sung in recital, concert and oratorio in many parts of the country. In 1984 she formed "Duette" with soprano Jacqueline Norris and frequently performs in that context.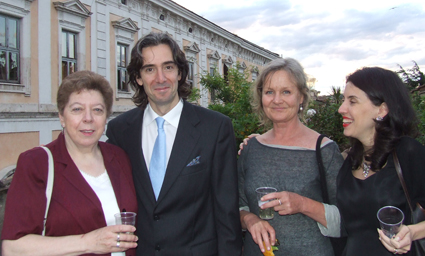 Grieg Day in Rome with the new Italian Grieg Society
Talk on 'Grieg in Rome' and a short recital.
June 15 2014
Photograph Above: l to r: self, Matteo Helfer (leader of the IEGS), Else L'Orange (Norwegian Embassy), Chiara di Dino (sop).
Literally Grieg
"the complete texts to all Grieg's songs and choral music with literal English translations"

Available Now - see details below or email

Lindsay Music, 24 Royston Street, Potton, Beds. SG19 2LP - RRP £14.95 plus p&p ISBN 0 85957 058 4
www.lindsaymusic.co.uk.
"I have been reading your skilful rendering of these songs with boundless admiration...You have done singers everywhere a most valuable service"
Professor emeritus William Halverson (lecturer and translator USA)
"...This new publication is a God-send to those keen to include the master's songs in recital or in teaching programmes. Record collectors, too, will enjoy the easeful and literary nature of Ms Foster's translations.
Robert Matthew-Walker, Musical Opinion, July-August 2011
"Hjertelig takk for både 'Peer Gynt' og 'Literally Grieg'. Det er en utrolig innsats du har gjort på begge felter!"
Professor emeritus Finn Benestad, Kristinansand
"Congratulations on your fantastic work on the Grieg translations! You have managed to keep the warmth of the Norwegian language... an achievement I find quite extraordinary!
Gjermund Brenne, director, Ullern Chamber Choir, Oslo
World Premiere - English translation of all the vocal music from Grieg's Peer Gynt Southampton Philharmonic, Special commission
November 27th 2010 -  more information...
"I am really impressed with your translation"
Stein Iversen, Minister-Councillor, Royal Norwegian Embassy, London
"Bravissimo for your achievement. I am proud of you"
Professor emeritus Finn Benestad, Kristiansand
"a great occasion…congratulations on your translation"
Professor Patrick Dinslage, Berlin
The Songs of Edward Grieg -

Beryl Foster


The definitive appraisal, revised and updated - of Edward Grieg's 180 songs.

click here for more info...

"This book is the ideal place for the singer to start their research…readable and thorough"
Neil Jenkins in The Singer, April/May 2008
"More than being just a guide to the songs…one of the most perceptive, and detailed, books in English on the composer."
Mike Ashman, Gramophone, December 2007